Scoil an Aingil Choimhéadaí, An Cheididh
074 954 2268
saac.ceideadh@gmail.com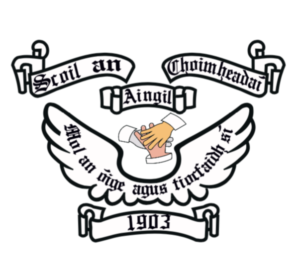 Fáilte go Scoil an Aingil Choimheádaí
Is scoil caitliceach Scoil an Aingil Choimhéadaí, faoi phátrúnacht an tEaspag de Ráth Bhoth. Cuirimid sár-oideachas ar fáil do pháistí, trí mheán na Gaeilge, i dtimpeallacht thacúil, a thugann deis do gach páiste barr a gcumas a bhaint amach. Mar chuid den oideachas sin, déantar cúram d'fhorbairt acadúil, chúltúrtha, mhóralta, fhisiciúil, shibhialta, spioradálta, mhothúchánach agus shoisialta na bpáistí . Scoil an Aingil Choimhéadaí is a catholic school under the patronage of the Bishop of Raphoe. We provide an excellent education to children, through the medium of Irish, in a supportive environment, giving each child the opportunity to achieve their full potential. As part of this education, we nurture the academic, cultural, moral, physical, civic, spiritual, emotional and social development of each child.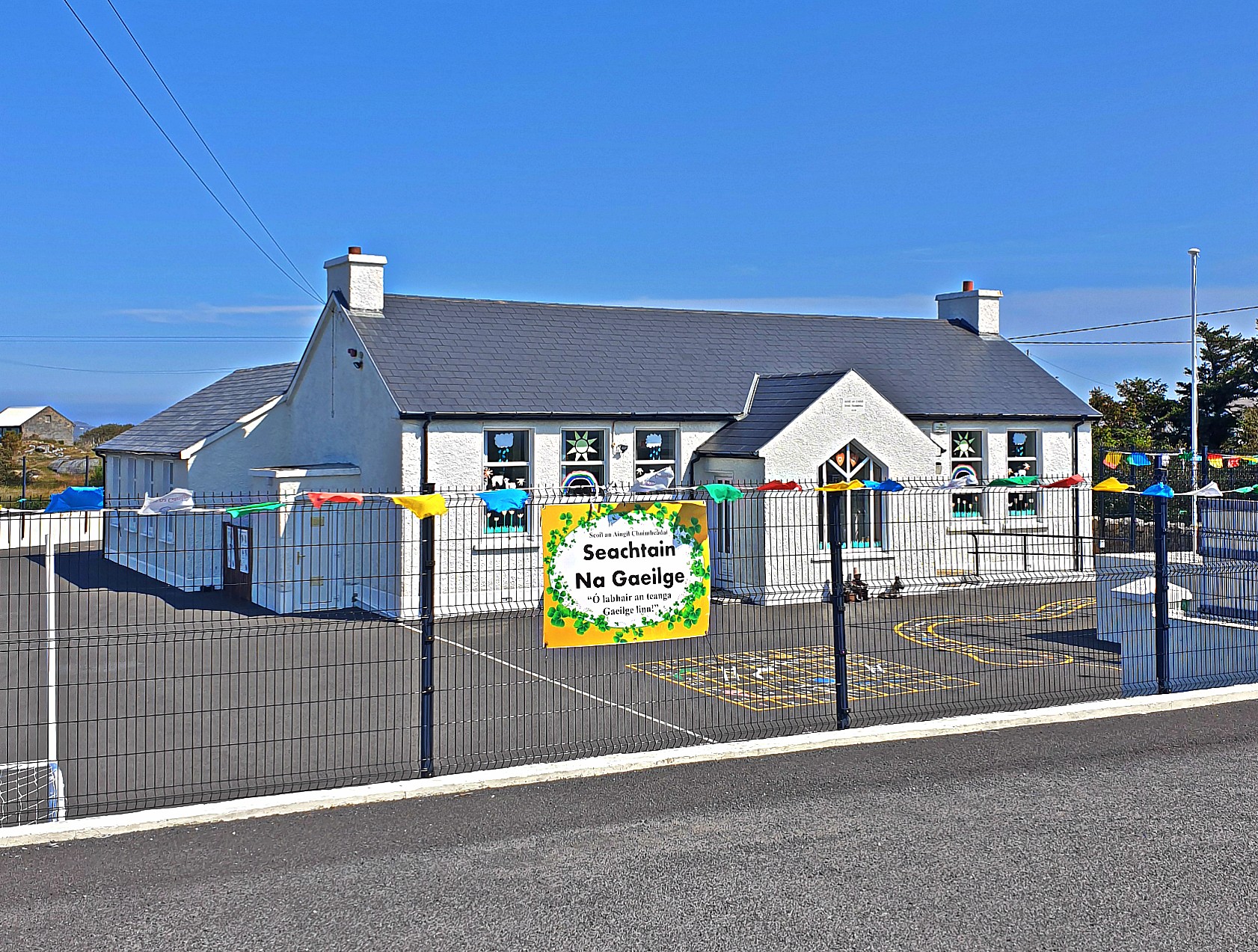 New Enrolments
Scoil an Aingil Choimhéadai is now taking applications for new pupils for 2023/24. Please find all info in our news section.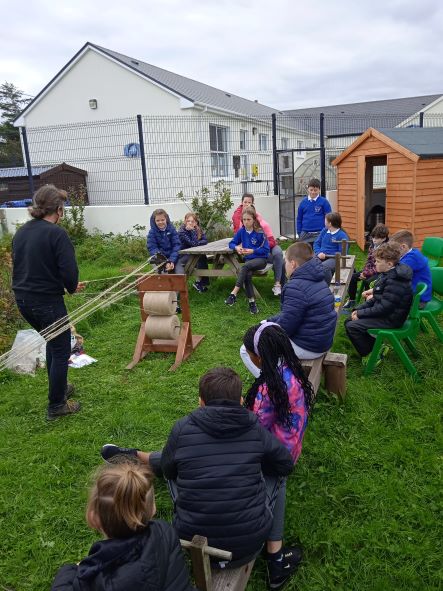 Ag foghlaim taobh amuigh !
Déanann muid ár ndícheall taithí foghlamtha a chruthú chun go bhfaigheann gach páiste taithí foghlamtha atá nuálach agus éagsúil.We enhance the learning experiences with diverse and innovative learning experiences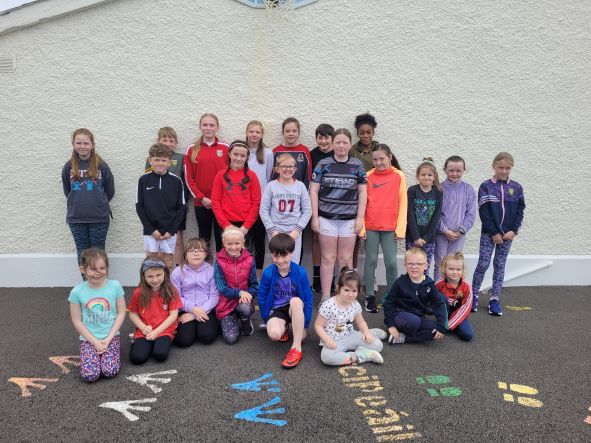 Páistí sásta
Is é ceann do na príomh-aidhmeanna atá againn sa scoil seo na timpeallacht spreagthach sona a chruthú dár ndaltaí. With more emphasis on mental health and well being. A happy, stimulating environment is our goal.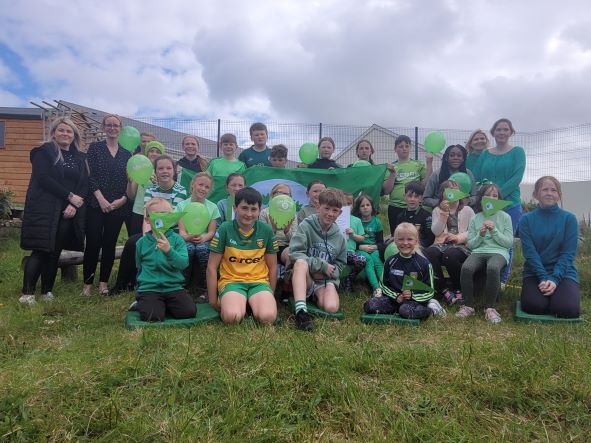 Brat Glas
Táimid iontach bródúil as ár mbrat glas a d'ardaíodh don chéad uair ar 2018. Cuirtear béim mhór ar athchúrsáil agus ar fhuinneamh a shábháil sa scoil agus déanann muid uilig ár ndícheall chun cuidiú le cúram na dtimpeallachta go rialta.Our school is very proud of its Green School Status and the beautiful green flag which flies proudly in front of the school. We began the Green Schools Programme in 2018. The green schools programme is a leading international environmental education programme which promotes environmental action and awareness raising, all working towards creating a sustainable future.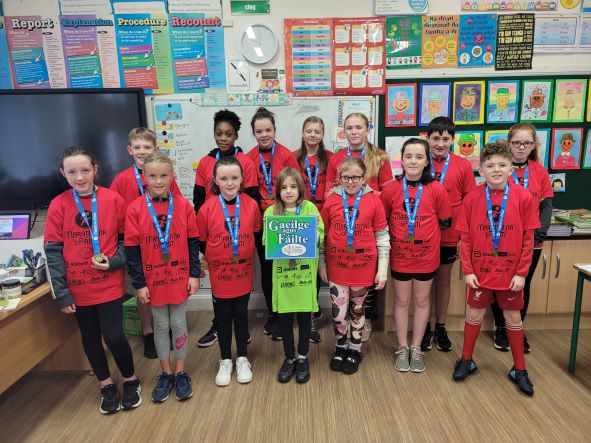 Scéim Aitheantais
Tá áit lárnach ag an Ghaeilge agus ag an chultúr Gaelach i saol na scoile agus cuirtear oideachas ar ardchaighdeán trí mheán na Gaeilge ar fáil do na páistí uilig. Tá na ranganna uilig a fhad le Rang 4 go hiomlán tumtha sa Ghaeilge, ag déanamh gach ábhar fríd an Ghaeilge. The Irish language and culture are a central part of everyday life here in our school. We provide a high standard of Irish medium education for all our pupils. Our classes up as far as Rang 4 are fully immersed in Irish and do all subjects through Irish, with the exception of English.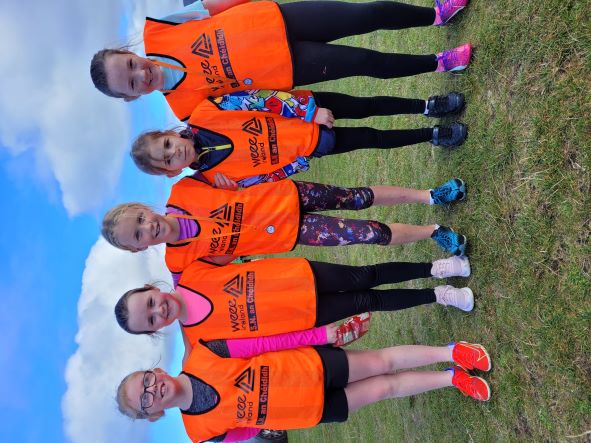 Extra Curricular Activities
Táimid ag obair ar an chlár 'Pushkin Trust' i mbliana arís, tionscadail traschuraclaim, trasphobail agus trasteorainn. Oibríonn muid go dlúth lenár gclubanna aitiúil, RAC agus CLG an Clochán Liath don pheil ghaelach, iomanaíocht agus lúthchléasaíocht. Glacann na daltaí sa seomra sinsireacha páirt i gceachtanna ucailéile agus glacann an scoil iomlán páirt i gceachtanna damhsa agus amhranaíocht. Bíonn gníomhaíochta fhisiciúil éagsúla ag dul ar aghaidh i rith na bliana mar chuid do na spriocanna atá again do na Scoil Ghníomhach, pilates agus aireachas san áireamh.This year, we are engaging in the Pushkin Trust Programme for schools, which is a cross-curricular, cross community and cross border project, We are also taking part in the Heritage in Schools Programme which allows the children to develop a knowledge and appreciation for the uniqueness of their locality through workshops and trips to various places of interest with a heritage expert.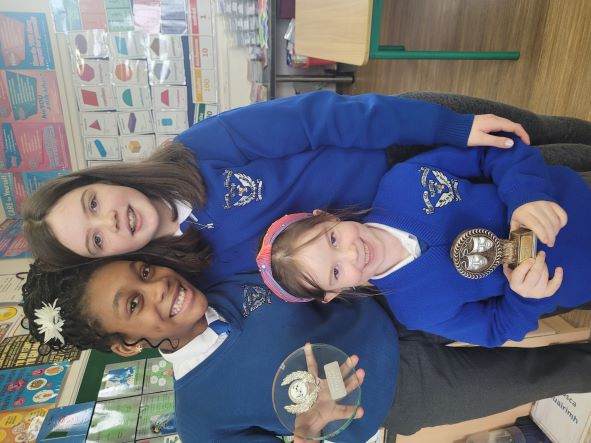 Arts
I Scoil an Aingil Choimhéadaí, déanaimid ár ndícheall talainn na bpáistí a fhorbairt fríd na healaíona. Tugaimid seansanna dóibh a bheith ag dul i dtaithí ar talainn úra chomh maith fríd an cheol, ealaín agus dráma. Through our Arts programme we enhance and develop our children's natural talents and allow them to explore new ones through the mediums of Music,Art and Drama 
I measc an phobail le linn 119 bliain.
8
Baill Foirne
23
Méid daltaí
Est 1903
Bunaithe
News

Events

Courses

Teachers
Additional Information
For parents and students
Parent Testimonials
Students and Parents Club
The kids love the small school, knowing their peers of all ages. The school is helpful and approachable in any needs the children may have. It's like one big family.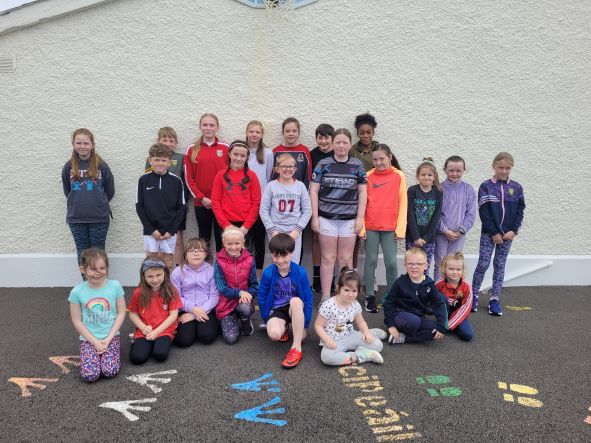 The school has so many different activities, from Drama, to Yoga, to athletics, and GAA.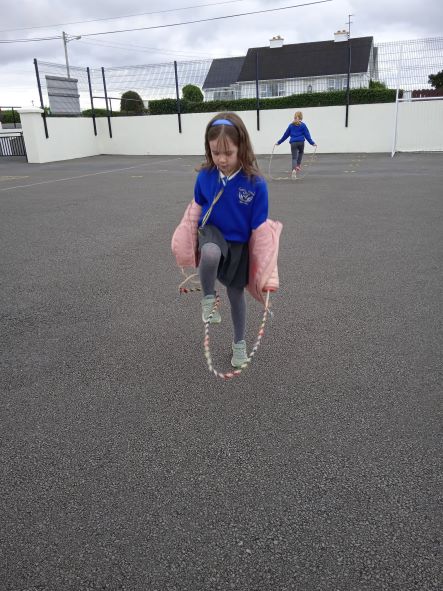 Even though Irish isn't their first language at home, they have no problems doing their homework, and their confidence in speaking Irish is brilliant! And hopefully this will stand to them in years to come when choosing a career.